Three people will likely have to spend the night stranded on an Arctic ice floe with temperatures expected to drop to –36 C after foul weather stymied rescue plans on Saturday.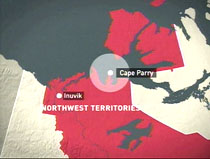 One of the men, a fisherman, became stranded on Friday while working near the NWT.'s Cape Parry. The other two, part of a search and rescue crew from Winnipeg, parachuted onto the floe early Saturday to set up a survival camp for the man.
The three were expecting a rescue helicopter from Inuvik to retrieve them on Saturday afternoon, but an RCMP spokesman said the aircraft was forced to turn back due to bad weather.
"We have a report just moments go that all three are in good condition," RCMP search and rescue co-coordinator Jack Kruger in Hay River, NWT., told CBC News.
"They are in a good position now. They're safe, they've got resupply. So they can outwait this quite clearly."
Forecasters said they expected a low of –36 overnight, without taking windchill into account. Kruger said the windchill made it feel like –45 at noon on Saturday.
The fisherman, Bill Woik, was in a boat near the water's edge off the coast of Cape Parry on Friday when the ice broke loose. Cape Parry is about 960 kilometres northwest of Yellowknife.
Propelled by the wind, his small boat drifted away so fast that he was unable to paddle back.
"He was adrift for some time until he became affixed to a larger ice pan," Kruger said.
Woik called the RCMP on his satellite phone and the rescue began.
The crew of a C-130 Hercules out of Winnipeg located Woik early Saturday morning and two search-and-rescue members parachuted onto the ice floe to help.
The helicopter flight from Inuvik takes three hours, but Kruger said a rescue attempt might be able to be done sooner using an aircraft with skis or a Cormorant helicopter.
He said the three have enough equipment to wait it out until they can be rescued....blah, blah, blah