Anzio, Italy
15-19 Sept 2006
15 sept. friday
day one of the adventure. roomie is up early ie 0600, to take me to the airport. he is a keeper. l am only slightly hung-over….compliments of a friend heading over the evening before with beers that will eventually remind me why l always drink before flying: death by airplane is easier to accept when you only feel slightly better than if the plane turns itself into tinfoil. l forget my sunglasses on the airplane….the flight is diverted back to edmonton so that l can retrieve them....my phone call to the airline earlier has nothing to do with this helpful return of said property.
18 sept. monday.
l head for the calgary airport and meet a very nice air canada staffer who gets me great seats going both ways over the pond: she thoughtfully reminds me that the drinks are endlessly supplied on the flight, as long as one is not compelled to either want to fly the airplane or set one's shoes on fire. This is certainly a great start, as l am wearing sandals and have little desire to fly this airbus again. l end up sitting beside a very tall polish woman who does know my polish friend in calgary……l am astonished….l mean, how many polish people can there be in calgary?? the tall polish woman happily proceeds to show me pictures of her daughter. l decide l like the woman sitting beside me, especially if l get to meet her daughter. the tall polish woman tells me she is heading to gdansk. alas, l am not, but after a couple of red wines, courtesy of air canada, l debate suggesting to the crew we should go to poland to meet this woman's daughter. however, l forget what l decided to do after l went to sleep.
19 sept frankfort/rome
upon awakening. the tall polish woman has been distracted by 'mission impossible 3', otherwise known as 'you'll never get to meet my daughter' and we fly together in silence until we reach frankfort, germany. she disappears from both my life and my will.
l end up having exactly 17 minutes to change terminals and catch my connecting flight to rome: that includes me running longer and farther anyone should have to do at my age as well as climbs up and down 6 flights of stairs because the elevators are clogged with fat people more hung-over than l am. oh, and a endless queue for a security check....inside the departure lounge....wtf? anyway, to make a long story short, l bolt to the head of the line and tell the security nazi that l am late for my aircraft but still want to make a go at it....to which she replies...'if you are late, then it is already gone, so get back in line'. however, all of the people in line sympathize with my plight ie maybe they've missed all their flights as well and therefore are in less of a rush than me, and allow to head thru security ahead of them. and off l go....and sail right thru german customs. l learn very quickly that this was a bad idea so it is back to the back of yet another queue. l explain to the friendly customs person that because l was a lawyer and understood that all germans like to stand in meaningless lineups for no apparent reason explains why l felt l did not have to queue...apparently it works because l am freed to run another couple of hundred metres to my flight. l squeeze my svelte form thru the door as it is being bolted shut. the flight is otherwise uneventful and l wake up as we land.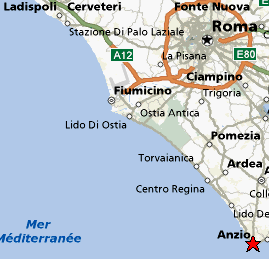 surprised to find our car even looks like one...a far cry what the 'twingo' we wrecked in france. this is a good start....trying to find one anther in rome would not have been an easy thing to do if we had not hooked up at the airport. nor is finding one's prepaid hotel in rome... we quickly interpret 'close to the vatican city' translates into 'find another hotel anywhere else'. however, all is not lost as we learn a valuable lesson about our 1 hour exposure to rush hour traffic in rome...never drive in rome in rush hour.
Anzio we leave the city and drive to anzio, a city and resort on the coast of the lazio region of Italy, about 33 miles south of rome. Called antium in ancient times, both emperor caligula and nero were born in antium; it is worth noting that l wasn't. remains of roman villas are conspicuous all along the shore, along with my stomach. anzio was the site of an allied forces landing (operation shingle) and ensuing four-month battle during world war II. the battle of anzio is depicted in the film of pink floyd's The Wall and "when the tigers broke free" is a floyd song dedicated to the father of pink floyd front man roger waters, who was killed during in the battle.
we enjoy our first evening in italy with a pleasant stroll along the tyrrhenian sea and celebrate with what l thought were 2 bottles of wine. the evening ends badly with me in the surf as usual, and a very strong desire to never to drink grappa again the rest of my life.
click on a picture to see a larger image. hit arrows at either end of the slideshow for more pictures.
• Up • anzio • cassino • Herculaneum • Vesuvius • Pompeii • amalfi coast • stromboli • Sicily • Eastern Adriatic •