Fort George National Historic Site of Canada
Niagara-On-the-Lake
Oct 02, 05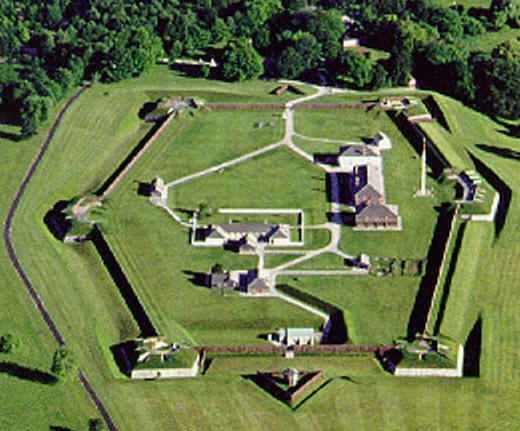 In 1796, the British complied with the terms of the 1783 Treaty of Paris, which had granted Fort Niagara to the United States. To protect their interests in Upper Canada, the British set work immediately to construct a fort across the Niagara River. Control of the river supply route was essential to the survival of the forts west of the Niagara region. By 1802, Fort George had been completed and became headquarters for the British army, local militia and the Indian Department.
The imposing new fort stood guard over transportation on the Niagara River and protected Navy Hall, a vital warehouse and wharf facility. It was a substantial installation, boasting six earthen and log bastions linked by a wooden palisade and surrounded by a dry ditch. Inside the walls, the Royal Engineers constructed a guardhouse, log blockhouses, a hospital, kitchens, workshops, barracks, an officers' quarters, and a stone powder magazine. The superbly designed magazine survives still.
During the War of 1812, Fort George served as the headquarters for the Centre Division of the British Army. These forces included British regulars, local militia, aboriginal warriors, and Runchey's corps of freed slaves. Major General Sir Isaac Brock, the saviour of Upper Canada served here until his death at the Battle of Queenston Heights in October 1813. Fort George was destroyed by American artillery fire and captured during the Battle of Fort George in May 1813. The U.S. forces used the fort as a base to invade the rest of Upper Canada, however, they were repulsed at the Battles of Stoney Creek and Beaver Dams. After a seven month occupation by, the fort was retaken in December and remained in British hands for the remainder of the war.