Canadian Horseshoe Falls
03 Oct 06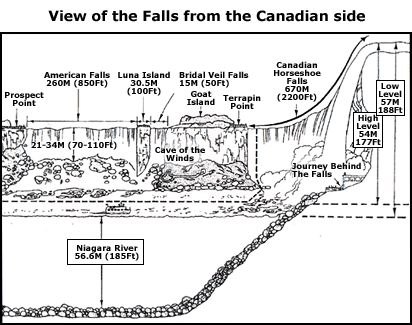 The Niagara River, as is the entire Great Lakes Basin of which the river is an integral part, is a legacy of the last Ice Age. 18,000 years ago southern Ontario was covered by ice sheets 2-3 kilometers thick.
The Niagara Peninsula became free of the ice about 12,500 years ago. As the ice retreated northward, its meltwaters began to flow down through what became Lake Erie, the Niagara River and Lake Ontario. About 5,500 years ago the meltwaters were once again routed through southern Ontario, restoring the river and Falls to their full power. Then the Falls reached the Whirlpool.
It was a brief and violent encounter, a geological moment lasting only weeks, maybe even only days. In this moment the Falls of the youthful Niagara River intersected an old riverbed, one that had been buried and sealed during the last Ice Age. The Falls turned into this buried gorge, tore out the glacial debris that filled it, and scoured the old river bottom clean. It was probably not a falls at all now but a huge, churning rapids. When it was all over it left behind a 90-degree turn in the river we know today as the Whirlpool, and North America's largest series of standing waves we know today as the Whirlpool Rapids. The rapids above the falls reach a maximum speed of 40 km/hr or 25 mph. The fastest speeds occur at falls: 68 mph has been recorded at Niagara Falls. The water through the Whirlpool Rapids below the falls reaches 48 km/hr or 30 mph, and at Devilís Hole Rapids 36km/hr (Calculations for Niagara at half flow.
The startling green colour of the Niagara River is a visible tribute to the erosive power of water. An estimated 60 tons of dissolved minerals are swept over Niagara Falls every minute. The colour comes from the dissolved salts and "rock flour", very finely ground rock, picked up primarily from the limestone bed but probably also from the shales and sandstones under the limestone cap at the Falls.